unknown6910

Posts

: 3


Join date

: 2018-08-06

on Fri Aug 10, 2018 5:59 am
Does anyone know a way to rip their girlfriends pants without her knowing that I did it?
Miyagi

Posts

: 194


Join date

: 2017-09-23

on Fri Aug 10, 2018 2:30 pm
Honestly the only way to guarantee a public splitting is to sabotage her seams before she actually wears them as I have done with a few pairs of my girlfriends jeans and work pants. Because jeans and work pants are stitched in different ways you have to rig the seams differently.
Jeans:
Now there a couple ways of doing this, you can either use a sharp knife or scalpel to score along the the seam on the side where the underlaying fabric is on (this is very important). So imagine that if your girlfirend is wearing her jeans this is what you can see if you were looking at the seam on her butt. You can score the entire length of the seam if you wish but bear in mind the focal point of the rigging should be where the seam is under the most strain from her butt. If her jeans are stitched on the opposite side then do exactly the same thing but make sure that you score along the piece of fabric that is on the underside of the seam as pictured here.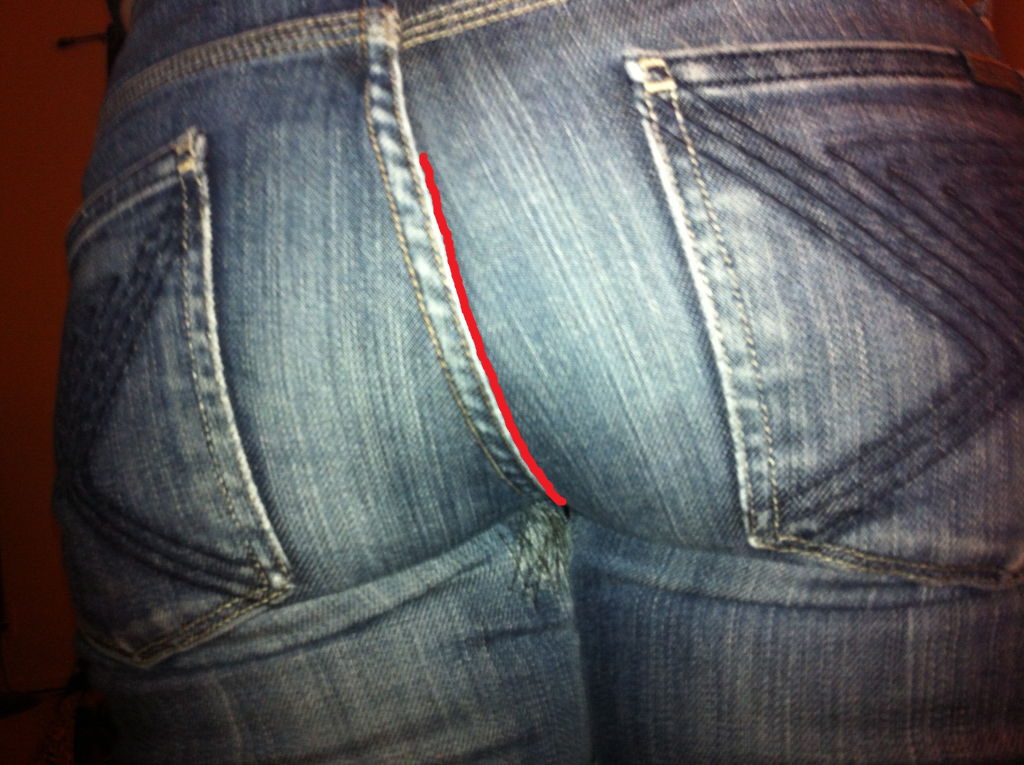 If you wish you can make a very small hole with the tip of the knife at the stress point and then score the fabric along the line away from the hole as pictured here. Again making sure thet the hole is right at that point where her seam is under the most strain, you should be able to see this just by looking closely at the seam itself.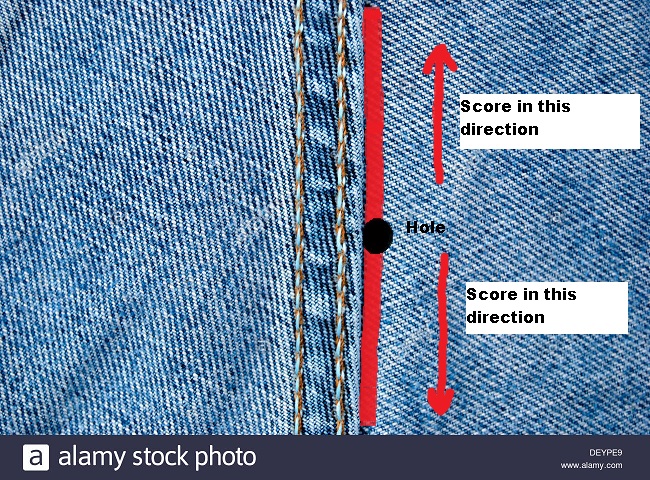 You'll need to score the material a few times (depending on how worn/old the material is) in order to sufficiently weaken the material. My advice would be to score the material a couple times then hold the jeans up to the light, if you can start to see light through the score marks you're pretty much at the point where it'll rip very easily. Now it takes a bit of practice to get it just right so that she will be able to put them on and sit down/bend over a few times before they go. If you go too mad the first time she bends over they'll split or if you don't do it enough they won't rip the first time she wears them. My advice would be to check out the different types of stitching she has on all her clothes and figure out which ones would be best to sabotage then look at how the seam is constructed and figure out how to weaken it without being detected. But like I said practice makes perfect so prehaps find some old clothes at a yard sale or charity shop (depending where you are from) and do a couple tests to see how much force it takes for your sabotaged seams to tear and you'll have it mastered in no time and causing your girlfriend all kinds of public ebarrassment. Best of luck.
Miyagi.
unknown6910

Posts

: 3


Join date

: 2018-08-06

on Fri Aug 10, 2018 3:01 pm
Thanks! What about nylon swish pants or pajama pants?
Permissions in this forum:
You
cannot
reply to topics in this forum